SeDiv Toshiba
18th December 2018
For Western Digital new hard drives with USB PCB numbers such as 2060-800041, 800067, 800069, 810003, 810012, 810035, after users get special unlock PCB to access the firmware and repair possible firmware failure, users mostly get the SED data encryption issue.
From now on, new solution to recover lost data from these SED locked hard drives after firmware repair with special unlock PCBs is available. The new solution is the Data Unlock SATA Connectors here.
With the data unlock sata connectors, users don't need to solder wires any more on the original USB PCB to decrypt the data. All users need to do is to install this connector simply to the original USB PCB and then users can image the patient HDD or extract the lost data directly by SATA interface successfully.
---
In newer versions of Western Digital hard disk, the user needs to use the unlock board to recover data and repair the hard disk.
Hard Land is providing the best price in the world
| | | |
| --- | --- | --- |
| N | PCB Number | Price |
| 1 | 800066 | 120$ |
| 2 | 800077 | 140$ |
| 3 | 800065 | 130$ |
| 4 | 810011 | 130$ |
| 5 | 800041 | 85$ |
| 6 | 810035 | 180$ |
800022 can replace 800041 3T and 4T
Special Conditions For Sale:
Package 1: 800066 + 800077 + 800065 + 810011+800041 + 810035
Contact us for more information:
Email: peter.sany3250@outlook.com
WhatsApp: +989123486391
Skype: peter_sany71
Unlocked PCB WD  800065
Unlocked PCB WD  800022
Unlocked PCB WD  800077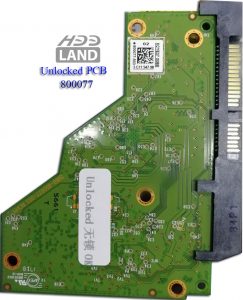 Unlocked PCB WD 800066
Unlocked PCB WD 810035